Rahab's Daughter's Founder Participates in International Campaign Featuring Actor Liam Neeson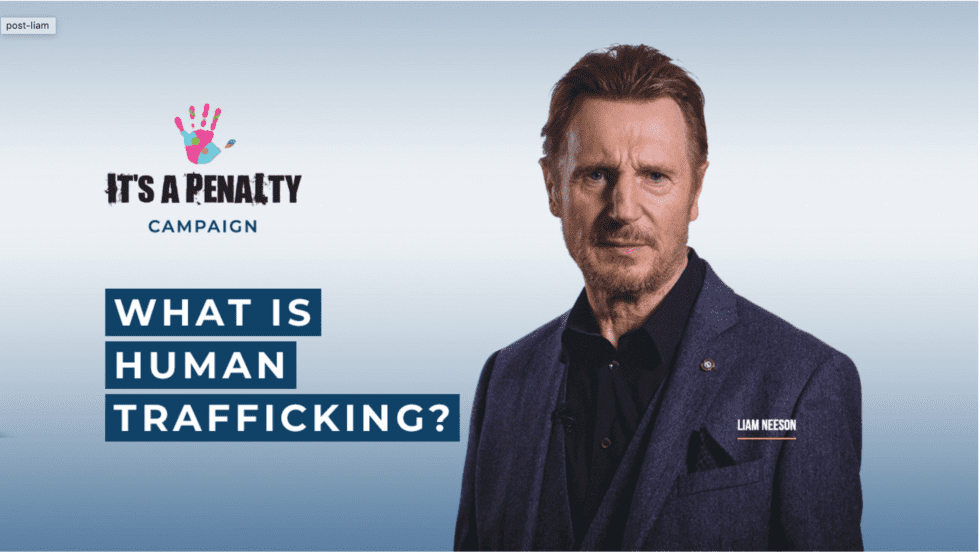 t's A Penalty created an international campaign featuring award-winning actor Liam Neeson. The short film, produced by the UK-based organization raises awareness about human trafficking. During the two minute film, Liam Neeson explains what human trafficking is, how and when it is most likely to happen, and what signs to watch for if you suspect human trafficking.
Sarah de Carvalho, MBE, CEO of It's a Penalty said about the film,"The message is incredibly impactful, not only because of Liam's gravitas and strong delivery, but because it educates about what human trafficking is, and it equips everyone with practical information and tools that may help save someone's life. Liam starred in the action-thriller TAKEN about a teenage girl and her friend who are kidnapped while traveling abroad. This movie helped raise awareness about human trafficking, however it's much more common for victims to be exploited locally, in their own community and often by people they know."
The new film was released on July 29th. To premiere the video, It's a Penalty hosted a live expert panel, entitled WHAT IS HUMAN TRAFFICKING? featuring noteworthy leaders supporting the global fight to end exploitation, abuse and human trafficking, including our founder Sharmila Wijeyakumar.
Panel experts:
Sarah de Carvalho

, CEO at It's a Penalty Campaign

Christian Elliott

, Global Development Director at A21

Callahan Walsh

, Director, Strategic Advancement & Partnerships at NCMEC

Deborah Richardson

, Executive Director of the International Human Trafficking Institute
Kat Rosenblatt, International Survivor, Executive Director at There Is Hope For Me
Sharmila Wijeyakumar, Human Trafficking Survivor and COO at Rahab's Daughters
Watch the full panel discussion here.
With thanks to It's a Penalty and their additional partners for including Rahab's Daughter's in the launch of this important film and awareness tool. Please watch and share the film and panel discussion to continue shining a light on the world of human trafficking.