Rahab's Daughters Tampa Bay Chapter Partners with Created and the Underground Free Clinic to Bring Free STD Testing to Sexually Exploited Women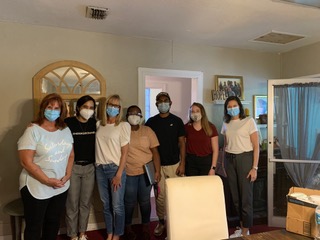 By Hanna Alexander
We have some very exciting news! It brings us great pleasure to share that we have partnered with Created and the Underground Free Clinic (UGC) to provide an STD clinic for sexually exploited women in the Tampa Bay area. The clinic will take place every month at Created's Drop-In Boutique in Tampa from 12pm-2pm. This past Saturday, we held our second monthly clinic and were ecstatic with the turnout. COVID precautions were in place,  temperatures were taken at the door and masks were required.
Testing was administered on Saturday. The results were provided on "results day", 4 days later. A healthcare provider met with the women who were tested, gave them their results, and provided the necessary treatment. Any long term treatment will be provided by the Underground Clinic.
Created provides a safe space for women to gather, meet other trustworthy individuals, interact and be empowered with God's word, allowing them to break free of the bondages in their lives. Created walks alongside the women in our community, advocating for them while bringing hope through Jesus Christ.
The Underground Free Clinic provides medical and pastoral care to marginalized communities in the Tampa Bay area. They offer hope and healing through Jesus, offering prayer and intercession for the healing of the whole person.
We want to express our gratitude for these amazing ministries and the opportunity to work together, to reach one survivor at a time, and provide care in new ways.
Our next clinic will take place on Saturday, October 17, 2020, from 12pm-2pm.